Make or get a 2018 FIFA World Cup Excel Template for recording results! Following the matches is a great way to practice Excel! I recommend 3 great Excel templates.
The point is to use Excel and learn from it. Good experiences (like the FIFA World Cup) can change your attitude to Excel, and also help you remember more information (Excel features), since you are emotionally or intellectually tossed.
Make your own World Cup Excel template!
First I recommend you to create an Excel table on your own, that reflects your thinking and preferences. If the whole task is too big, just model subtasks!
You can practice the following:
Create a database: for example make teams and players lists, schedule of the matches
Write formulas: Calculate the difference in the goal or HA to the forward team
Color by Conditional formatting: you can automatically color good results.
You can find the details and rules of the 2018 FIFA World Cup on the Wikipedia page.
Use ready-made World Cup Excel templates! I show you 3 of them
If you do not want to start recording and editing now, or you need some inspiration, I recommend you these Excel Templates. You can track not only the results, but also write down your tips, and plan the result of your favorite team.
Excely.com World Cup Excel Template
Download file from excely.com, there are several templates for sports events, and track all matches of the international football tournament.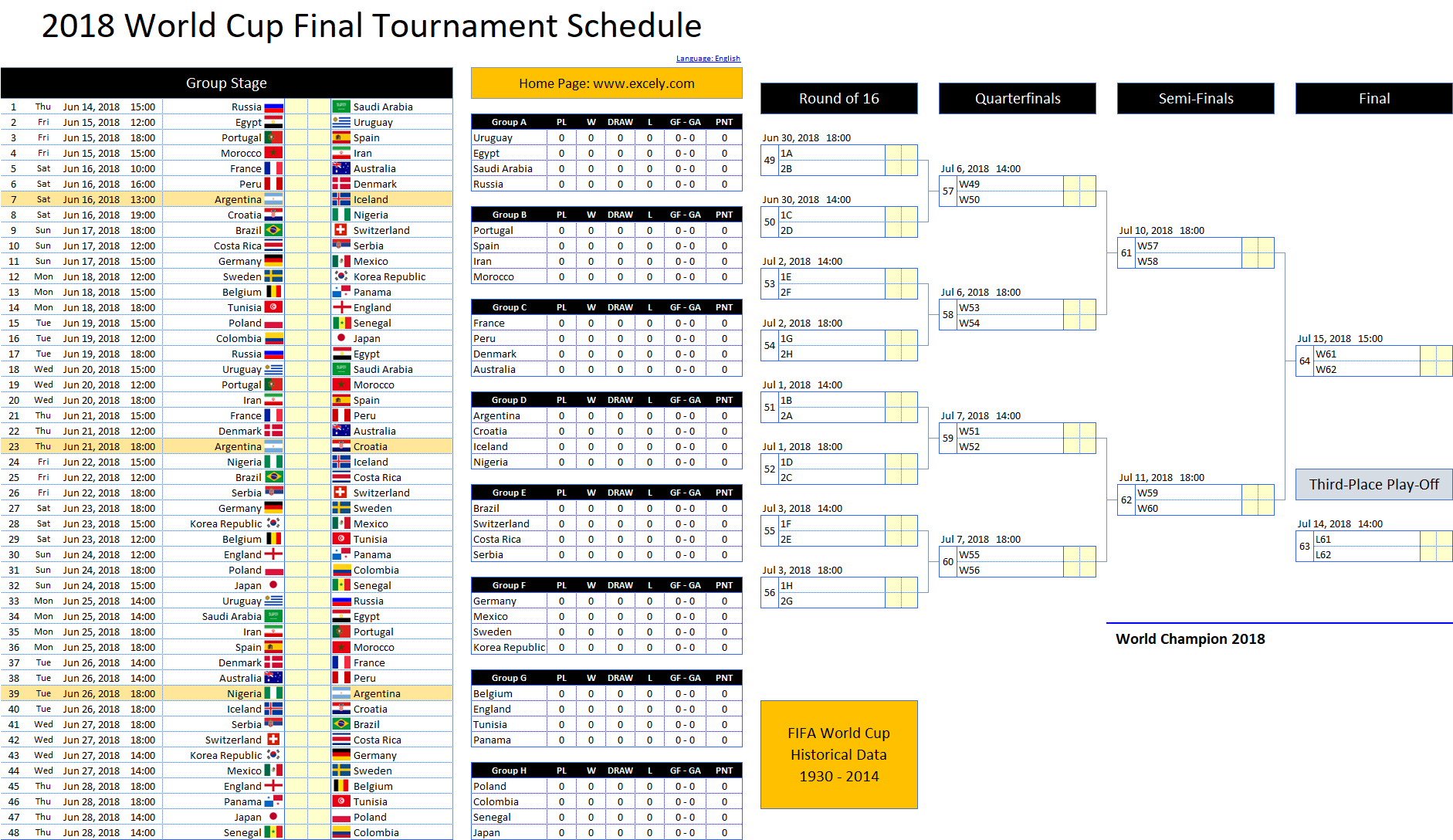 Set language on the "Settings" tab (cell C4). There are also Hungarian, so you can find your own language, too. You can write it, or choose from the drop-down list.
You can also set your time zone to GMT + 1:00, so you will see exactly the time of the matches.
Enter the final result of the games on the main table (2018 World Cup), and everything will be automatic: the winner is marked in blue, and the losing team will become red in. Excel calculates the scores for the Football Team according to FIFA standards – without macros.
Eexcel.co.uk World Cup Excel Template
I also recommend the template of the eexcel.co.uk football which you can download by clicking here.
You can also set the time zone on this template, although the days are unfortunately not shown properly – on my Hungarian version.
On the BOOKIE tab, you can record bets with 3 players, which will  be immediately evaluated. If you want to play more, you have to pay for the 20-50-100 version (a symbolic € per person).
Chandoo.org FIFA Worldcup 2018 Excel Tracker
With this Excel Tracker (click and download from here) you can view summary and detailed points table, and also have a bracket and timeline view.
In the settings, you can give you favorite teams, so you can follow them throughout the World Cup.
More Excel secrets
Please share this article with those who may get closer to Excel with these templates.
If you need help with Excel learning or interpretation of templates, we would be happy to help you on a Privat Excel Lessons through Skype.